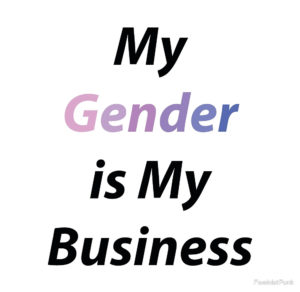 *clears throat, dusts off soapbox*
We're going to chat about gender today. Eek. I know. A fraught discussion at the best of times, and this is not the best of times. And this is risky, because I'm going to frustrate and anger people, particularly later in this post. But this is not a conversation I've ever seen happen, and it matters to me.
This is not a personal attack. If it feels like one, consider where that feeling is coming from. Most people (except maybe some kids these days, they impress me!) are transphobic before they know better, because social stigma against trans people in our culture — the white western world — is so high. It takes years to unpick your own thought processes, and you never stop learning. I'm not perfect. I've had to do exactly that myself many times, and in admitting I didn't know something and I may have hurt people, that's where my real growth happened.
Buckle up, I've got some words to avoid writing in my WIP…
First and foremost, I believe and support trans people. It's the least I can do. I err on the side of aggressively welcoming people into exploring gender. Always, always. The only way sex and gender can work as the social constructs they are — note: I'm not debating this, others have explained it better — is by believing at face value what everyone says about themselves. Period.
So that means I'm happy to mistake a few cis people for being trans and welcome them into the LGBT community — regardless of what I believe their intentions to be. Because whenever I guess someone's intentions, I risk being wrong (and I often have been), and I speak over them, and I cannot let myself speak over any person's statement about their own gender or sexuality.
Yes, even when it seems like they're trying to a) deliberately hurt minorities because they derive pleasure from it, or b) make a poorly-worded joke… so… deliberately hurt minorities to get laughs from others, often people who are uncomfortable with the social power they wield and therefore choose to believe they don't.
(Small but important tangent: yes, even if they're one of the assholes who says "I want toast pronouns lol" and intends it as a dig at nonbinary people; this only shows their ignorance in not understanding the artificiality of language, and how easy it actually is to learn to conjugate other pronouns, and how cool that is, and what potential that brings! I've had entire conversations about people with void pronouns — "Void went to the store to buy voidself a chocolate bar" — and once I relearned how to conjugate, those pronouns rolled off my tongue like any others. Yes, it took me a while to get there, and I had to start with they/them and make that make sense to my brain, but then a whole world of possibility opened up. Language exists to describe us; we don't exist to be described. Challenging language will always fascinate and please me.)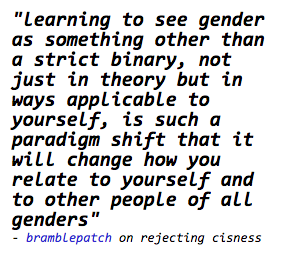 I immediately recognize anyone who expresses a coming-out sentiment as trans, and I default to pronouns aligned with that gender (he for men, she for women, they for nonbinary people) until I can ask them directly, or I see them state a pronoun preference in public somewhere. If they are one of those people who find unusual pronouns funny, I use whichever pronouns they found funny, and shortly thereafter I usually have to ask why they don't find it funny anymore. Usually the answer boils down to "because these pronouns make me dysphoric, and I never realized how much that sucks". Boom, done.
As much as it makes me grind my teeth, there's a reason I extend tolerance to these people besides snideness. Bear with me.
Doing this forces people to think about why they find gender transition innately impossible. Yes, I'm referring to men who call themselves lesbians and women who call themselves gay men, but this is not limited to these groups… there are men who respond to bathroom debates by claiming to be female, but get really uncomfortable when people suddenly treat them like women, for example. Because in order to find a statement like "I am a gay man" a joke, or even a heartwarming show of support, instead of just a coming-out statement to be supported and welcomed, you must find gender transition impossible or unbelievable on some level. Why else would you assume people will read such a blatant statement as anything else?
To draw a comparison that may help this make sense: some straight women will say they're going out with their girlfriend or wife when they mean a female friend; the term is comfortably used and joked about because it's seen as impossible or unbelievable that this woman would actually be your girlfriend/wife, as in a lesbian relationship, or that you'd be attracted to her if you're already known to be attracted to men (which is bi erasure on top of homophobia).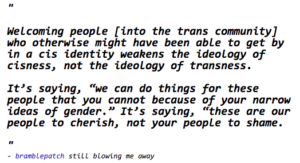 And, perhaps most importantly, aggressively accepting trans status at face value means I don't risk not seeing someone's pain. Some high-level drama happened not long ago, and I could easily read the situation the way everyone else seemed to… or as a trans person making poor choices to explore this identity. Literally no person I saw discussing the situation in public acknowledged this as a possibility. None. Anywhere. At all. The one person who even mentioned the word immediately said they clearly weren't trans, without any evidence to support that statement.
(Short but important note: how to respond when someone fucks up and it seems like they're trying to cover it up by claiming an identity they don't hold is to say, "OK, so you're a [newly-acknowledged identity] who has said and done this hurtful thing. It doesn't matter if you're a community member by choice (ally) or identity (LGBT+). I'm disappointed, and this hurt people. Why did you do it?" and wait to see. They may back out of it and acknowledge they aren't that identity later, and that shame is on them. Or you may discover someone in a tremendous amount of pain who didn't know how else to explore their gender. But you can't ask them to prove their identity, or ascribe to them your interpretation of their intentions, or decide anything for them, least of all their "true gender". Don't make biological sex or gender a shield, let alone a way to determine who holds truth/knowledge and who doesn't. Suddenly there's no reason for people to hide behind it or lie, and there's no reason to fetishize people, and there are fewer shitty, hurtful debates. Also, we can sing Kumbaya.)
That situation spoke volumes to me, and it deeply scared me and the trans people I know. Can I overstate how deeply? I don't think so. I do know that there are trans authors out there who you will never, ever meet at a convention or even see photos of just because they are that terrified of being treated like the obliquely-referenced author above, having their transness questioned or invalidated, up to and including being doxxed at home and at work, and generally being treated as a fraud or an impostor for their identity. And that's saddening, because it means that for those who see face-to-face interaction as the heart of "the community", they will never get to meet people who they could learn so much from, and there will continue to be a divide between those who have the privilege to see and be seen without these fears, and those who cannot — or at least, can't yet.
I have hope for a change in this situation. I don't see signs of change yet, but I have hope nonetheless. And I hope this post gets you thinking, maybe starts a conversation, and maybe makes people think about the ways gender can be messy and misunderstood.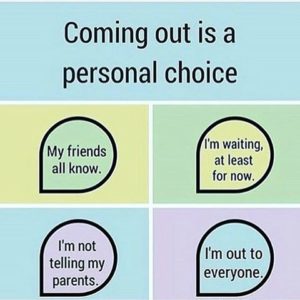 So, to my trans author and reader friends: I know some of you feel afraid, but you are valid, you are important, and you are not obligated to disclose your gender or trans status. Not ever.
If you come out, in public or private, I will always try my hardest to remember and take you at your word, even if you don't use the T-word itself. Even if you're not transitioning, even if your pronouns aren't the "standard" ones, even if you've said or done hurtful things.
Your gender identity is yours, and yours alone, to determine. You don't need to validate anyone's ideas about it, and others should recognize, respect, and move on with their business.
Let me repeat that again, because it's important: you NEVER need to disclose your gender (or lack thereof), or trans status to anyone. You also deserve support if and when you do. Doesn't matter if you're transitioning or not, how long you've been closeted, or how tentative your gender exploration. None of that matters. I can't overstate that.
You are enough.